Sport
Sport is very important in our school. We take part in lots of competitions and blitzes every year. We also learn the basic skills of other sports.
Each year in our school every child from Junior Infants to Sixth class participates in a wide variety of sports and physical activity for example....
Football: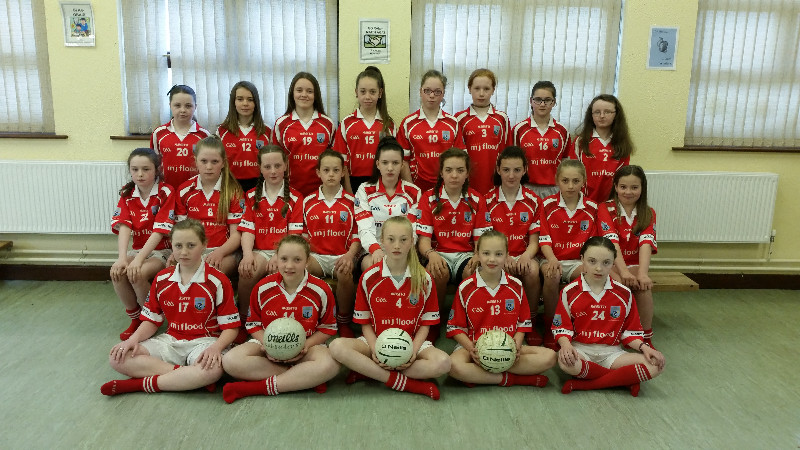 Alan is our visiting GAA coach and in each term he takes the children from different class groups to teach the fundamentals of football right through to the skills required for the senior teams.
Our infants have great fun becoming more physically literate and seeing how their gross and fine motor skills become more developed with each passing week. The older boys and girls get coached by Alan at a different time of the year which complements the great work being done at Under-age by our club Caulry. Mr Reilly our 6th class teacher and Mr Swords train our Boys' senior football team. Mr Mc Gowan trains our Girls' team.
So whether you are in Junior Infants or in Sixth our school gives everyone a chance to experience football.
Rugby: Every child from 1st class to 6th get the chance to play some form of rugby. Coaches come in from our local rugby clubs every term and teach the boys and girls the basics of non-contact/tag rugby. The older children (with parental consent) get to learn and experience contact rugby which they really enjoy. Both boys and girls have taken part in many Tag-Rugby blitzes over the years.
Basketball: Our basketball coach is Paddy Mullally who is a highly qualified and very experienced coach in Athlone. Paddy coaches basketball for 2 terms every year to the children from 3rd - 6th. Though we don't take part in competitions the children leave the school with 4 years of top quality coaching which is hugely beneficial for them in Secondary school.
Swimming: Every class group from 2nd to 6th attend swimming classes in Athlone RSC for between 6-8 weeks per year. Our senior classes go from Hallowe'en to Christmas while the 2nd class go towards the end of the year when they are a little more prepared than earlier. Swimming is on the curriculum so we actively encourage all children to go. It is a life skill... and great fun!!
Soccer: For the past 3 years we have taken part in the FAI- organised 5-a-side soccer inter - schools tournament which starts out at local level in Athlone then progresses to County level in Mullingar. The winners in Mullingar progress to a North Leinster tournament in Meath before having a tilt at a Leinster and All-Ireland title. Our boys and girls teams continue to take part successfully and have reached stages 2 & 3 on a regular basis.
Golf: We are lucky to have an 18-hole championship golf course beside us here in Mount Temple and in 2014 Philip Murphy the local golf pro came to the school on a weekly basis in the last term and introduced us to SNAG (Start New At Golf) Philip worked with all ages from Jun Infants to 6th and proved to be an outstanding success. By using child-friendly equipment and fun games all ages could begin to emulate Rory Mc Ilroy.!! WE have had Philip in our school for 2 terms every year since 2014.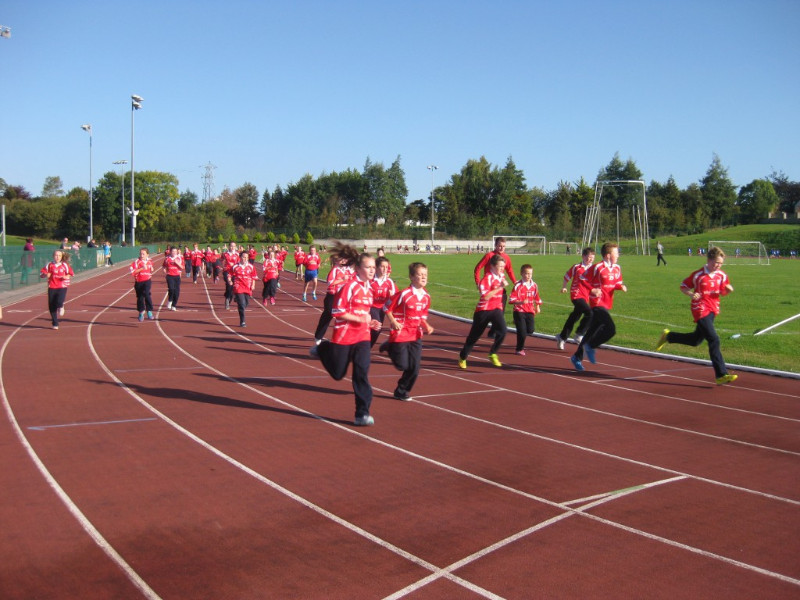 Ms Kearns our Deputy Principal takes children from all classes for brain gym and/or yoga every morning . Children from 4th, 5th and 6th have been running up to 10 laps of our playground every day after break and since 2014 we have competed very successfully in the Westmeath Cross Country Schools' Championships. Boys and girls from 1st class to 6th represent our school in this event held in the grounds of Belvedere House Mullingar every September.
Since the London Olympics we have organised an Inter-school athletics meet in the AIT. 7 local schools Ardnagrath NS , Ballybay NS , Baylin NS , Coosan NS , Cornamaddy NS , Scoil na gCeithre Máistrí , Tubberclaire NS and ourselves take part in races ranging from 100m to 800m for boys and girls from 4th, 5th and 6th. The event starts with a pre-race parade of all the competing schools and each child's (competitor's) name and their school is announced on the PA before each race which really adds to the atmosphere.

Just over 2 years ago the Taoiseach Enda Keena opened the Greenway near our school.
This is a cycle track that runs between Mullingar and Athlone and it happens to pass through Moate which is only about 5km from our school .The 6th class pupils along with Mr Reilly and Ms.Kearns and/or Mr Mc Gowan and some parents have gone for a 25km cycle twice a year since it opened. They either go east towards Mullingar or west towards Athlone and always have the now traditional ice-cream at journey's end!! This has become one of the many highlights of our 6th class' final year with us. In 2015 Mr.Pat Buckley sponsored 3 balance bikes which we use to teach children how to cycle if needs be.
Our boys won Cumann na mBunscoile football titles in 2013 and 2014. Our girls followed this up with another championship in 2015 and we hope to taste success again over the coming years but the real measure of sporting success in our school is the variety of sports we try to offer and the numbers of children having a positive sporting experience whether it's in the hall, on the track, in the pool, on the pitch or wherever. We like to think that on that front we are very successful indeed!